What is Kuriyama Holdings Corporation?
From its origins as an industrial-use rubber products vendor in 1939, Kuriyama Group has grown to encompass a range of products which include hoses, belts, and rubber and synthetic plastic products, as well as domestic and overseas construction and sports facility flooring, sports apparel and much more. Currently, within Japan, we pursue diversified business, such as selling industrial products, construction and sports facility flooring, sports apparel brands and dust control products; in addition, and as part of our commitment to improving customer satisfaction, we also operate as a bespoke manufacturer which develops our own brands, as well as works in cooperation with partners, to deliver products tailored to customers' needs.
Meanwhile, overseas, we are developing business worldwide through locally established subsidiaries in North and South America, Europe, Asia and elsewhere. Through our longstanding operations in North and South America and Europe we have cultivated a solid foundation of experience and expertise that we capitalize upon to help Kuriyama Group grow as a comprehensive manufacturer and seller in the hose industry. Also, within Asia, we are establishing sales facilities in China and Thailand to facilitate our capacity to stably supply the locally-based Japanese construction and agricultural machinery manufacturers and, thereby, strengthen our sales throughout China and the ASEAN region.
Kuriyama Group Strengths
1.

Business Portfolio Delivering Stable and Secure Revenue

Kuriyama Group's strengths are its resilient management base, built through business development in different areas (Industrial Product Business, Sports Facility and Construction Product Business, North American Business, European & South American Business and other business), as well as its diversified risk derived from the complementary interaction between multiple, different business pillars. Along with managing this business portfolio to ensure stable revenue, we carefully select and focus on business areas where we can grow and achieve a competitive advantage, appropriately allocating management resources to these areas while building up business quality in terms of earnings capacity and operating cash flow.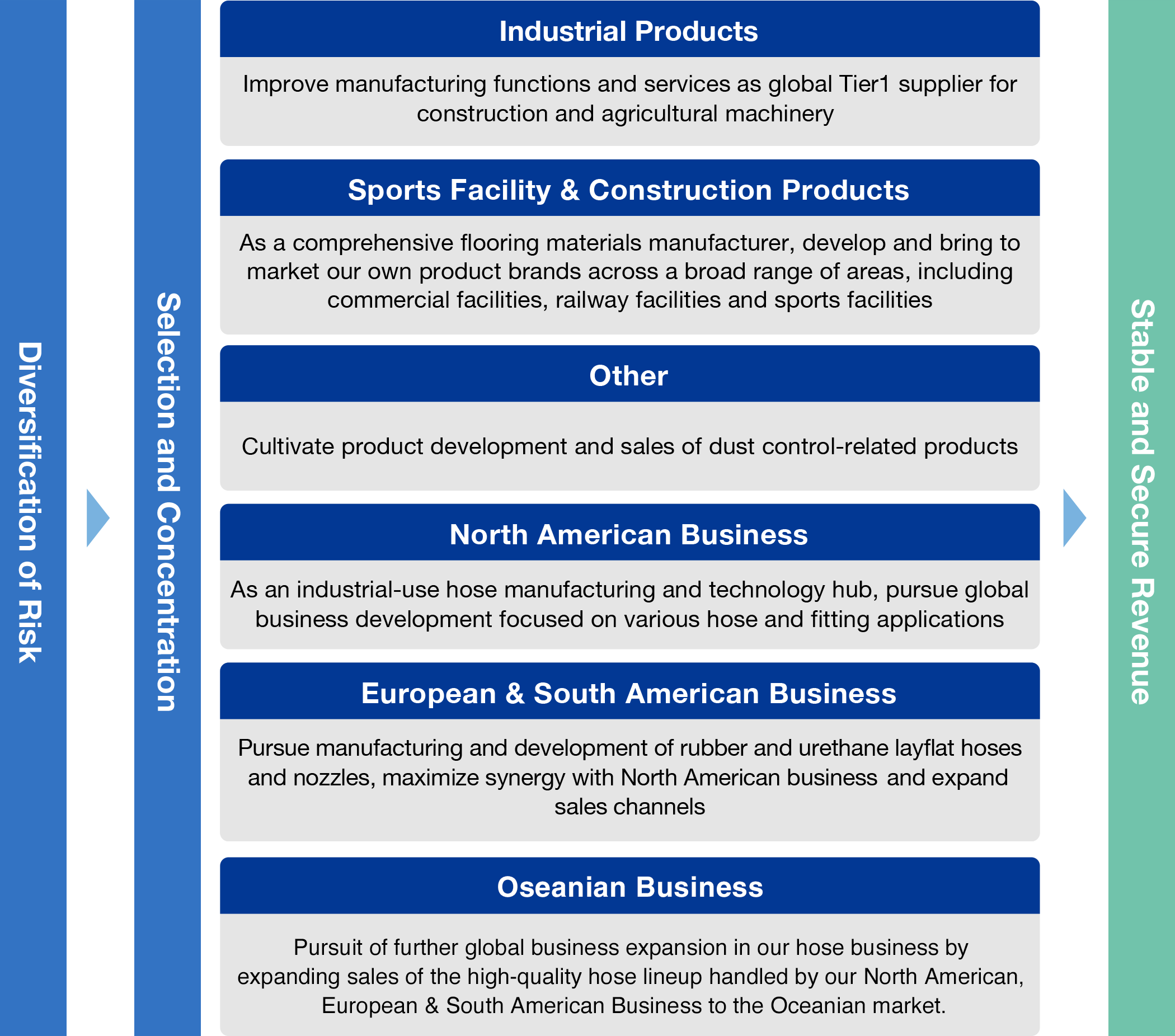 In addition, we believe that our current corporate value is tied to our capacity to achieve sales and solutions tailored to the needs of a diverse range of industries, markets and customers; to marshal our many years of experience and accumulated expertise; to ensure that our employees carry out their work in a responsible manner according to the core principles of the Group; and, as a result of all of this, to continually live up to the trust that our customers place in us.
2.

Establishment of Global Business Base

We aim to be a global company, and we pursue global expansion according to a business model focused on local production for local sale.
For our overseas hose business, we are working to improve our earning capacity and competitiveness by expanding sales synergy between Group companies, growing the range of products we offer and bringing to market products that will set us apart from our competitors.
We are strengthening cooperation between Group companies in Asia, the Americas, Europe and elsewhere, and, as a global Tier1 supplier for construction and agricultural machinery manufacturers, we are building a system that will ensure the products we supply overseas are of the same quality as those we supply in Japan.
In addition, we are strengthening our sales and supply systems overseas via development of the distribution network linking our various hose manufacturing and sales facilities.
Share-Related Information